As COVID-19 cases are on the rise again in Coconino County, our staff and leadership are once again encouraging our clients and our community to do everything you can to stop the spread in our region. We have our precautions solidly in place – we require that everyone wear a mask in order to enter our shelter, encourage frequent hand-washing, educate on COVID symptoms to attempt early-detection, and we have a solid plan in place to isolate and help anyone who tests positive. While we have had almost zero positive tests among our own recurring shelter clients, whenever someone does come to us from elsewhere with a positive test result, we immediately move them to a non-congregate, offsite setting.
Thanks to North Country HealthCare we are able to offer on-site testing and vaccinations for our folx. Our current vaccination rate at our shelter is 80-85%, which is INCREDIBLE. That is a life-saving percentage, and we are so grateful for the work that NCHC is doing to keep our clients safe.
With this current spike we are looking back over the the last year and a half and really seeing what has changed in the how of providing our shelter and housing services to our vulnerable neighbors. We have had to pivot in almost every aspect of service delivery and increasing precautions again is a little easier to implement this time around to make sure no one gets left behind. Whether we like it or not, the delivery of our services as well as those of our partner agencies in Flagstaff have changed for good.
Below you will get to read a bit more from one of our long-time partner agencies, the Flagstaff Family Food Center, about how our partnership has evolved to make sure that all of our neighbors have access to food and shelter, even during a global pandemic.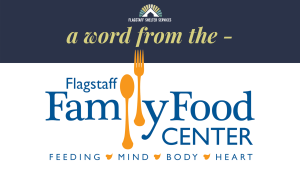 "COVID-19 has created challenges and hardships for all of us, but the pandemic has been particularly devastating for our most vulnerable community members: seniors who cannot leave their homes, children who have seen rates of hunger and depression skyrocket, families struggling to make ends meet, and our neighbors on the Navajo Nation who at times have seen the highest levels of coronavirus nationwide. Both the Flagstaff Family Food Center and Flagstaff Shelter Services had to respond to the increased need for food and housing assistance and find innovative ways to safely deliver services to our vulnerable community members. At the Food Center, we restructured all of our food distribution programs to be no contact, including offering to-go hot meals in place of a sit-down meals at the Kitchen.
With FSS housing more people at both their shelter and in hotel rooms throughout the pandemic, the Food Center increased our daily breakfast and lunch deliveries to FSS from approximately 400 per day to over 700 per day. Together, FSS and FFFC have served more community members in need than ever before during this uncertain time" says the leadership over at the Flagstaff Family Food Center. We at FSS we have been so grateful for the continued support of partner agencies, just like FFFC.
Ross Schaefer is the executive director at Flagstaff Shelter Services, the largest emergency shelter in northern Arizona. The nonprofit is open around the clock to anyone in crisis, regardless of faith, mental health or sobriety. In addition to offering emergency shelter for  individuals, the organization also provides permanent, stable housing to families experiencing homelessness. An average of two families a week are moved into permanent housing and more than 85 percent of them do not return to homelessness.
Donate to Flagstaff Shelter Services Now