In the midst of responding to crisis each day, the leadership of Flagstaff Shelter Services is constantly evaluating the effectiveness of our response to the needs of our community. We are intimately aware that our agency could not do any of our emergency shelter work without the dedication of our Shelter Coordinators. In non-pandemic times, the Shelter Coordinator was a role played by approximately 12 staff members who would provide support, safety and sup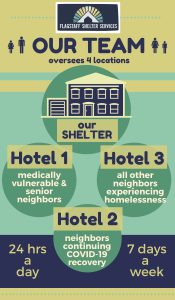 ervision of all people using services, volunteering and donating at FSS. At the onset of COVID-19, transitioning all shelter operations to function in multiple hotels with increased safety precautions was not simple. Luckily we have a staff that shifted and evolved with every new change in location and procedure. But from day one in the hotels it was evident that our existing staff would not be enough to fully and safely staff all locations, 24/7.
The stress on our team was (and continues to be) immense. So we began hiring more shelter staff and as of this week, I can say we are almost appropriately staffed. But as we found out earlier in the pandemic, our staff is not immune to this illness. Our staff members are all essential workers. For us to respond to the needs of our community, we need a healthy and robust team. Because of the need, we are stretched thin even though our staff size has almost tripled to cover all of our motels, shelter and programming.
We have anywhere between 150-250 people staying at one of our locations on any given night. But unlike before in congregate shelter, when monitoring our facility was much simpler, these hundreds of people are spread out over 4 locations.
You see – we are giving shelter to the people in our community who do not have anywhere else to go.
There are many reasons someone might come to our doors, often times it is because of on-going substance abuse, serious mental illness, recent jail time, or chronic health issues that get in the way of them maintaining stability in their lives. It is our staff's responsibility to be the feet on the ground with every one of these individuals, not only to make sure that their immediate needs are met, but to offer safety, support and supervision for all guests. Because of this commitment to the community and the sheer number of people with significant needs, it is so important to have multiple staff members on at all times. But that also means that second only to paying for the by-night hotel rooms, staffing is our biggest operational expense.
This is why we need your continued support. Our Shelter Coordinators are doing the hard and essential work- they are confronted daily with impossible situations and circumstances. One of the things I have always said is that Flagstaff Shelter Services truly has the best team in Flagstaff. I believe that now, more than ever. Our staff is caring and committed to serving folx in need. But this team doesn't work without you. You see, you are part of our team. I thank you for your on-going support, be it monetary or in thought and deed. And thank you for being with us in the work.
Ross Schaefer is the executive director at Flagstaff Shelter Services, the largest emergency shelter in northern Arizona. The nonprofit is open around the clock to anyone in crisis, regardless of faith, mental health or sobriety. In addition to offering emergency shelter for  individuals, the organization also provides permanent, stable housing to families experiencing homelessness. An average of two families a week are moved into permanent housing and more than 85 percent of them do not return to homelessness.
Donate to Flagstaff Shelter Services Now