Photo by Jake Bacon, AZ Daily Sun
The pandemic is clearly (and sadly) not over. COVID-19 cases across Arizona are surging drastically. With the significant distancing measures that we continue to take, FSS has been able to ensure the safety of the Flagstaff community. Our regular COVID testing of our staff and clients continues to show that transitioning all of our clients into non-congregate living is the only option to keep our number of confirmed cases low (currently at ZERO!).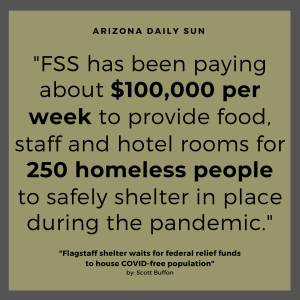 We obviously know the safest and most effective way to provide shelter for these neighbors – so what's the issue? Well to be honest, the incredibly high cost of non-congregate living, from a purely financial standpoint, has us questioning how much longer we can continue to staff and shelter this population in these hotels. We know that this is realistically a life or death choice for those individuals in our community who don't have anywhere else to go.
Our work is unpredictable for so many reasons, but unpredictability becomes extremely consequential when it comes to needing to pay our employees for their hard days worked in risky environments, or when it comes to the choice of whether or not we can afford to keep 250 high-risk people sheltered and safe during a pandemic. As you can read in the article, Flagstaff shelter waits for federal relief funds to house COVID-free population, published yesterday by the AZ Daily Sun, we have been awaiting the release of COVID-related funding for too long at this point.
Payroll hit this week for our staff that we have had to double over the past 3 months, and reimbursements – for the payments to the hotels where we shelter up to 250 people a night – are being delayed. The resources that it takes to keep people out of congregate shelter living are enormous- but should not be impossible. Especially when keeping these hundreds of people out of group shelter is a Flagstaff public health imperative.
So we need your help, Flagstaff. We are all tired of the pandemic by now, but no amount of weariness can be an excuse for lapsing in providing the best and only option to give our neighbors a fighting chance during this time.
That's why we continue to ask for help. We are doing everything we can to help keep us all safe, but we can't do this alone. Every little bit helps. We are so grateful for all of the demonstrations of your support (truly we wouldn't be here without you), but the truth of the matter is, we haven't left crisis mode yet. We will continue to fight, but we need you by our side.
Ross Schaefer Altenbaugh is the executive director at Flagstaff Shelter Services, the largest emergency shelter in northern Arizona. The nonprofit is open around the clock to anyone in crisis, regardless of faith, mental health or sobriety. In addition to offering emergency shelter for  individuals, the organization also provides permanent, stable housing to families experiencing homelessness. An average of two families a week are moved into permanent housing and more than 85 percent of them do not return to homelessness.
Donate to Flagstaff Shelter Services Now