As we are all emerging into the new normal through COVID-19, the Flagstaff Shelter Services staff and Board of Directors have been talking – amongst ourselves, to our clients, and to our strong partner agencies and the emergency service providers in our community. It has been through these conversations that we have and will continue to evolve the delivery of our life-saving services. Since moving out of hotels and back into congregate shelter, we have instituted increased and effective programming (which we will continue to expand in the coming months) to better meet the needs of our clients onsite, here at the shelter.
Part of these expanded services consist of FSS staff hosting onsite client programming & service connection to our partner agencies throughout the week (this helps to decrease the number of barriers our clients face – such as schedule and transportation – that might keep our them from making these connections). Just a few of these onsite service connections to partner agencies include:
12 Step Support
And more!
These are all in addition to our established (and extremely successful) FSS housing programs, where our four Housing Case Managers are still working hard to move our clients into permanent homes of their own.
Another big change that we have recently made is to the schedule for our emergency shelter operations. This shift has come as the result of hearing the needs of our clients, and making sure that our staff will be set-up to assist these neighbors all throughout the day and night. We made this change to ensure that clients with different schedules will have ample opportunity to use our day services and connect with FSS resources.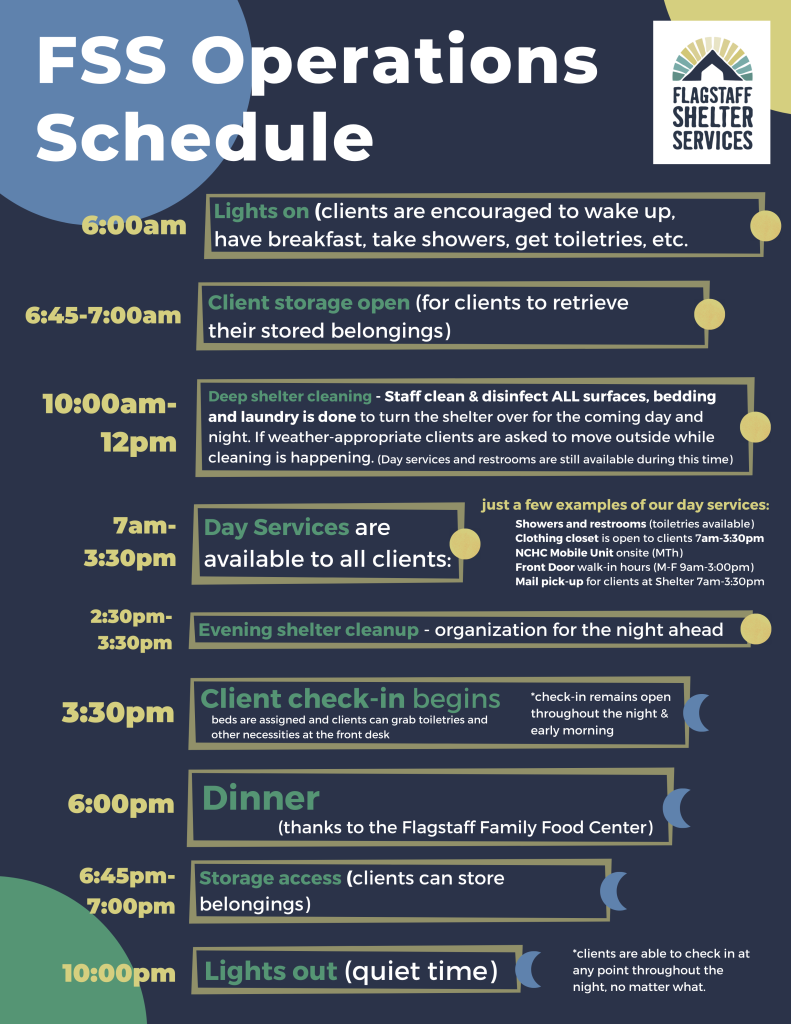 Our shelter is open 24 hours a day, 7 days a week, 52 weeks a year – no exceptions.
See the full operations schedule above – but here are just a few highlights of the expanded services:
While deep cleaning is taking place on the shelter side between 10am and 12pm to turn over bedding and such for the coming night, our clients are still able to access to our essential day services – such as restrooms, showers, our clothing closet, and mail services.
During the day clients are able to meet with the FSS staff to take steps towards diverting from homelessness and to connect with FSS housing services.
Every weekday starting at 10am is when our wide array of FSS staff-led programming that we mentioned above is happening onsite as well.
Basically, we have made sure that there are resources available to these neighbors in need at all times throughout the day and night.  
We continue to serve between 120-170 individuals each night, and we see even more throughout the day. These are the folks who generally do not have anywhere else in this region that will open their doors to them. Our staff and leadership is excited about this new schedule and the opportunities that it opens up to be able to serve our clients and our community even better.
As always – if you have any questions, feel free to reach out. We would love to talk with you.
Ross Schaefer is the executive director at Flagstaff Shelter Services, the largest emergency shelter in northern Arizona. The nonprofit is open around the clock to anyone in crisis, regardless of faith, mental health or sobriety. In addition to offering emergency shelter for  individuals, the organization also provides permanent, stable housing to families experiencing homelessness. An average of two families a week are moved into permanent housing and more than 85 percent of them do not return to homelessness.
Donate to Flagstaff Shelter Services Now